Müller Chamber Choir Special Performance (9/6/2018)
September 6, 2018
@
7:00 pm
–
9:00 pm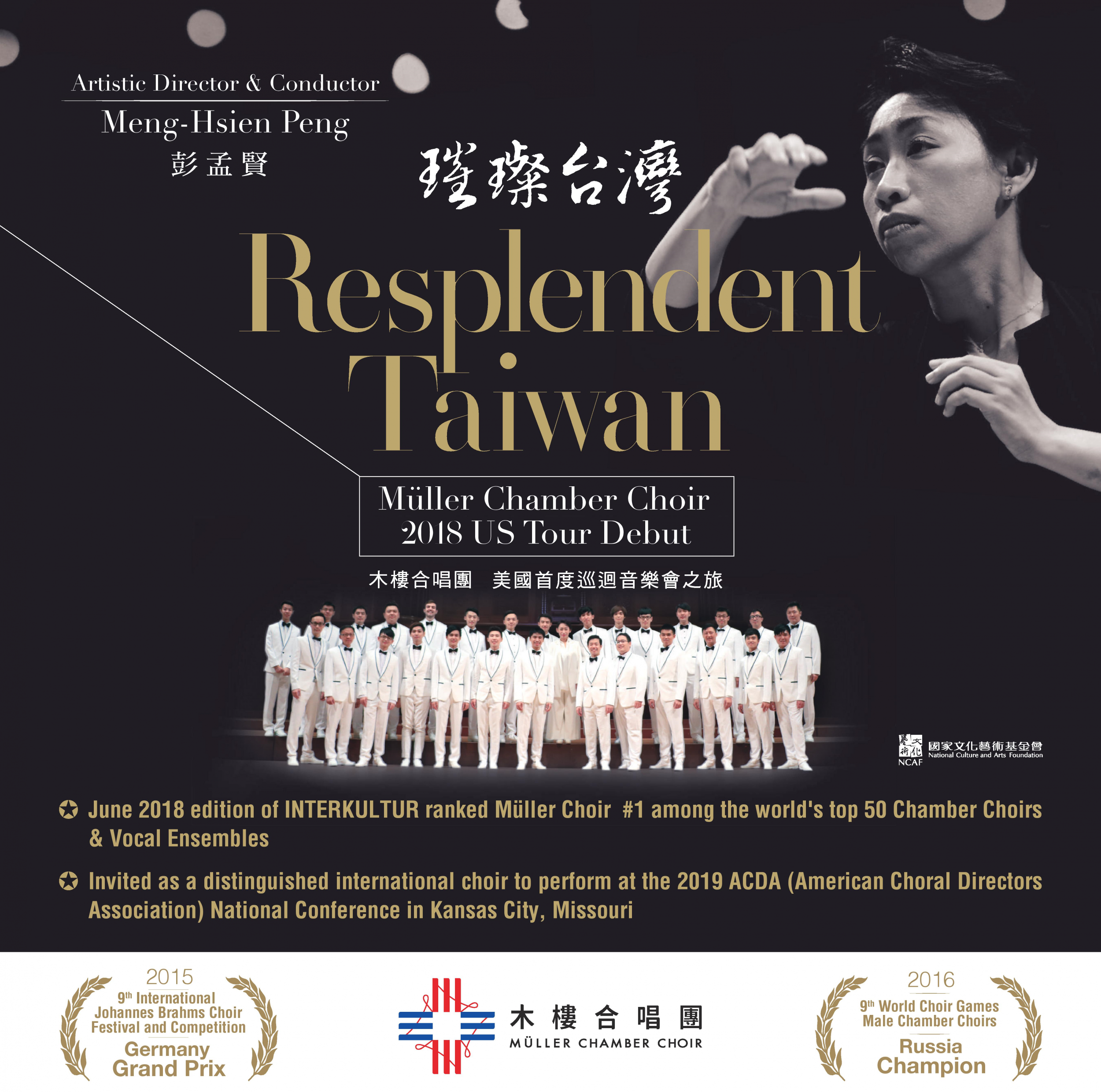 The North Texas Chien Kuo Alumni Association and DAAYO are proud to present the Müller Chamber Choir in their first ever performance in North Texas on September 6, 2018 (7PM) at St. Andrew United Methodist Church.
Founded in 1999 and led by Artistic Director and Conductor Ms. Meng-Hsien Peng, the Taiwan-based Müller Chamber Choir is one of the premier all male non-professional choirs in the world. INTERKULTUR, the world's leading organizer of international choir competitions and festivals, ranks the Müller Chamber Choir as the no. 1 non-professional Chamber Choirs and Vocal Ensemble in the world as of June 2018. (The second time in two years that the group has held this ranking.) Muller has a history of outstanding performances at the international level. In 2015 at the 9th International Johannes Brahms Choir Festival and Competition in Germany, Müller Chamber Choir won the Folk, Sacred and Male Choir categories and took home the Grand Prix. In 2016, the choir participated in the World Choir Games in Sochi, Russia and received gold medals in the Male Chamber Choirs, Musica Sacra a cappella and Musica Contemporanea categories. In addition, the group was the champion of the Male Chamber Choirs category with the highest winning score of all-time. Müller Chamber Choir takes upon itself the mission to create a distinctive Taiwanese male voice repertoire. Since 2011, it has commissioned composers and writers to collaborate on projects with the potential to bring out the multi-faceted depth and richness of the male choral soundscape. The completed productions include Requiem pro Amor (2011), Literature via Music (2012), Compose and Sing: Music of Our Land (2013), Songs of the Isles (2014), Wish I (2016), and Wish II (2017). We know you'll enjoy the choir's rich and sophisticated pieces, and be wowed by their musical interpretation and artistry! Program Highlights for September 6:
《Quatre petites prières de saint François d'Assise》Francis Poulenc
《Past Life Melodies》Sarah Hopkins
《Shenandoah》Marshall Bartholomew & James Erb
《Nearer my God to Thee》
Arr. 
James
 L. 
Stevens
《Raua needmine》Veljo Tormis
《Sure on this Shining Night》Jay Giallombardo
《Didn't my Lord Deliver Daniel》Arr. Aaron Dale
《Yesterday》Arr. Tom Gentry
Learn more about the Müller Chamber Choir at https://www.muller.org.tw/ and check out their performance clips at their Youtube Channel here.
Types of tickets available for sale below: 1) VIP – Special Seating -$30 (See
seating chart
. Keep in mind this is not to scale!) 2) Regular – $15 (All other seating areas not indicated as VIP) 3) Student – $7 (Same as Regular, but special pricing for students!) All tickets sold here are will-call (for pick up at the venue). Unfortunately we cannot offer refunds on tickets.