Conductor Profiles 
We have an award-winning conducting team at DAAYO dedicated to musical education. See their profiles below!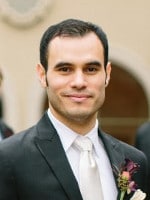 Matthew Moreno – Symphony Orchestra Conductor
Matthew Moreno is the director of DAAYO's Symphony orchestra. He is also the director of orchestras at Jasper High School in Plano, TX. His groups have enjoyed the success of consistent UIL Sweepstakes awards, first division ratings and "best in class" awards at festivals. In recent years the Jasper Legacy orchestra was ranked by Texas Music Educators Association as the number 2 orchestra in Texas. read more
Mr. Moreno is graduate of Texas State University in San Marcos, Texas, where he received his Bachelors Degree in Music Education with an emphasis in Instrumental Studies. Over the past 7 years, Mr. Moreno has served as one of the music directors at the Texas State Strings Camp. Prior to becoming DAAYO's Symphony Orchestra conductor, he led DAAYO's Philharmonic group, and also taught with the Collin County Youth Orchestra, UT-Arlington Strings Camp and now serves as the Plano ISD Strings Camp Director. He also served as director at Frankford Middle School (Plano ISD) and at Killian Middle School (Lewisville ISD).
As a double bassist, he has performed with various Texas orchestras, musicals, jazz groups, and often on cello with string quartets. He is a member of the Texas Music Educators Association and the Texas Orchestra Directors Association. Outside of teaching and performing, he is an active composer and arranger for orchestral music having been published with FJH Music and Grand Mesa Music. JW Pepper Music selected his works as "Editor's Choice" and have been performed at the Midwest Band and Orchestra Conference in Chicago as well as UIL Contest.
Mr. Moreno currently lives in Allen, TX with his wife Liz and their two cats, Peter and Tink.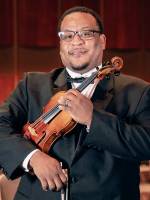 Sadarius Slaughter – Philharmonic Orchestra Conductor
Sadarius Slaughter is the director of DAAYO's Philharmonic Orchestra. He is also the Director of Orchestras at McMillan Junior High School and Associate Director of Orchestras at Wylie High School in Wylie, TX. His groups have received consistent Sweepstakes at UIL and have received best in class at many music festivals. Mr. Slaughter is an active clinician and has conducted a number of Region Orchestras in Texas. He also has taught at Plano ISD Summer Camp and The University of Texas at Arlington Summer Strings. read more
Mr. Slaughter grew up in Oklahoma City, OK, where he received his Bachelors of Music Degree from University of Oklahoma. He then went on and received a Masters in Violin Performance from the University of Arizona. Before moving to teach in Wylie ISD, Mr. Slaughter was the Director of Orchestras at Shepton High School and Wilson Middle School in Plano, TX. He also was an instructor at the Arizona School for The Arts and in Cedar Hill ISD. As an active violinist, he has performed in various orchestras including the Phoenix Symphony, Phoenix Opera, Allen Philharmonic, Ft. Smith Symphony, and the Lewisville Lake Symphony. He has also been in back up orchestras for performances featuring Stevie Wonder, Mary J Blige, Eartha Kitt, Led Zeppelin, Josh Groban, Jennifer Holiday, Harry Connick Jr. and many more artists.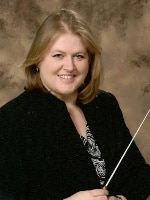 Erin Fox Wells – Concert Strings Conductor
Ms. Fox Wells is from Richardson, Texas and attended Plano public schools. She received her Bachelor of Music from the University of North Texas in 2001, and studied Early Music in England through the Cambridge Early Music Summer School. Her principal instrument is oboe, however she has transitioned to violin since leaving university. In 2018, she was named a STARS (Superior Teaching Achievement in RISD Schools) Teacher of the Year, an award granted to 10 recipients out of over 2500 teachers. read more
Ms. Fox Wells is an orchestra director at Parkhill Junior High, and was recently named a STARS Top Ten Teacher in Richardson ISD. She has served nearly 20 years in Texas schools as both a band and orchestra director. Additionally, she teaches piano, violin and viola privately, provides accompanist services, and acts as a clinician and adjudicator around the state.
Currently Ms. Fox Wells is Assistant Concertmaster for the New Texas Symphony Orchestra where she also serves as Librarian and Chairperson of the annual concerto/aria competition. Ms. Fox Wells' past performing experiences include Principal Oboe of the Mesquite Symphony, New Texas Symphony, Frisco Symphonia and Collegium musicum, playing oboe and violin in various modern and Baroque small ensembles and chamber groups, in addition to playing piano, oboe, violin and viola for various events around the Dallas area.
Ms. Fox Wells joined DAAYO in January of 2011 as conductor of the former Young Musicians Orchestra. During her time at DAAYO, she has been privileged to conduct a combined ensemble of musicians from all the DAAYO groups through two tours of China in 2011 and 2012, partnering with local schools in Nanjing and Beijing to produce a combined concert experience in an "East-Meets-West" cultural exchange, and participated in DAAYO's most recent concert tour of Austria, serving as both performer and associate conductor.
.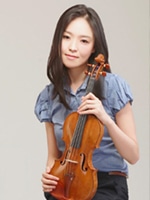 Junghyun Jenna Park – Junior Strings Conductor and Chamber Coach
Junghyun Jenna Park is conductor of DAAYO's Junior Strings Orchestra and also serves as one of DAAYO's chamber group coaches. She is an active performer and teacher in the Dallas/Fort Worth area. She began playing the piano at age five, and the violin at age nine. From an early age, she appeared in many performances as a soloist, chamber musician, and orchestra player throughout South Korea, China, and the United States. read more
She is the former concertmaster of the Volks Kammer Orchestra and the Modern Pops Orchestra. She has served as sectional violin for Skokie Symphony Orchestra(IL). Currently, she is a substitute violin for Plano Symphony Orchestra, Irving Symphony Orchestra, East Texas Symphony Orchestra, San Angelo Symphony Orchestra, and Midland-Odessa Symphony Orchestra.
As a chamber musician, she was a member of the Korean American Youth Symphony(KAYS) Ensemble in Seoul, and the Sonare String Quartet in San Francisco. Additionally, she has performed in multiple chamber music concerts and international music festivals, including the Summit Music Festival(NY), David Kim Orchestral Institute(PA), and Kuhmo Music Festival(KOR). As a pedagogue, she has served as faculty at various youth orchestras. Many of her students were selected for the All-Region Orchestras, All-State Orchestras, and Carnegie Hall Honors Students Series. Currently, she is an orchestra director at Irving ISD.
She has earned her Bachelor's degree at Ewha Womans University in Seoul, South Korea, and completed her Master's degree at University of North Texas (UNT) under the instruction of Dr. Felix Olschofka, and Sookmyung Woman's University. She is currently pursuing a Doctorate degree in Violin Performance under the instruction of Professor Philip Lewis at UNT. She is an accomplished violinist at UNT, and recipient of numerous awards and scholarships.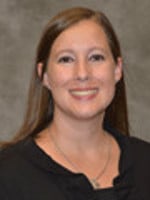 Angela Sledge – String Explorers Conductor
Angela Sledge is the Richardson West Junior High School Head Orchestra Director. She has been the head orchestra director since 2006 and began her teaching career in RISD in 2003. Her groups have earned UIL Sweepstakes and first division ratings and "Best in Class" in local festivals. read more
Originally from Abilene, TX, Ms. Sledge earned a Bachelor of Music Education from Stephen F. Austin State University as a Summa Cum Laude graduate. In addition to teaching summer camps for SFA, RISD, and most recently Dallas ISD, she has been a violinist and flutist with the Stephen F. Austin Wind Ensemble, Orchestra of the Pines, and Chamber Orchestra. Ms. Sledge is a former violin student of Isador Saslav. In addition to being a violinist, Ms. Sledge is also a flutist and has performed in many symphonies, orchestras, and ensembles. She is a former flute student of Sydney Carlson, Diane Boyd Schultz, and Mary Karen Clardy. She is a member of Texas Music Educators Association, Texas Orchestra Directors Association, and American String Teachers Association.
In addition to being a music educator, she is active in her community in the Junior League of Richardson. She has served numerous roles in the organization including President in 2012-2014. She feels strongly about giving back to her community in which is lives and teaches.
Ms. Sledge currently lives in Richardson, TX with her two cats Marlie and Millie.